Beyond the Steakhouse: Exploring the Diverse, Delicious World of Beef
As much as we enjoy a good steak, the most exciting new beef dishes aren't made with traditional cuts or preparations. Meet six culinary adventurers, all with different backgrounds and styles, who are taking beef into tasty new territory. 
There's a reason going out for a quality steak is often the sign of a special occasion. There's something timeless, comforting and yet glamorous about enjoying a premium cut that's been simply and expertly cooked. But even if you're ordering a 24-ounce porterhouse, you're only experiencing a tiny sliver of what makes beef so delicious and versatile. 
For anyone who tends to enjoy beef through the lens of steak, it's a bit like being a music fan who only listens to classical symphonies. While there's nothing wrong with Mozart, it's probably not what you want blasting in the club when you go out dancing. If you want to find the right song for every mood and occasion, you'll have to explore more than one genre and seek out the artists who are breaking new ground.
Thinking about it that way, we were inspired to put together a kind of culinary guide for anyone who wants to discover more of the diverse, vibrant and mouthwatering world of beef. We tracked down the experts leading the way, asking chefs and pitmasters to share recipes and insights about their favorite cuts and methods for cooking beef. They all come from different backgrounds, both in terms of what they grew up eating and the restaurants where they honed their craft. Together they illustrate how beef has become a staple in different cultures and how it can continue to evolve. 
While they each have a style and history all their own, what ties these chefs together is a sense of creativity, love of beef and an insistence upon using the Certified Angus Beef ® brand in their boundary-pushing recipes. Because when you go to great lengths to create a bold new dish, you're going to want to make sure you're working with the best ingredients—and the Certified Angus Beef ® brand has a quality and superior taste that's unmatched. Now let's see how these masterminds put it to great use. 
Where Burgers and Barbecue Meet
We won't have to move too far from the steakhouse for the first stop on our tour through the world of beef. Burgers, traditionally viewed as steak's less-refined, more approachable little brother, are getting quite the glow up, courtesy of culinary experts like Jonathan and Justin Fox, co-owners of Fox Bros. Bar-B-Q in Atlanta. They drew on their deep experience as pitmasters to create a burger that captures the essence of Texas barbecue—but with a twist. As with any good burger, it begins with the beef. 
"Our smoked brisket burger starts with Certified Angus Beef ® brisket," they say. "There's honestly no product out there that matches the consistency and quality—we know every bite is going to be juicy and delicious."
Once the patties are formed they start to work their barbecue magic, demonstrating the technique they learned in Texas and took to Atlanta, where the locals line up around the block for a tray stacked with their brisket. For the Smoked Brisket Cheeseburgers, they put the brisket patties in the smoker before throwing them on a cast iron skillet, toasting the buns in beef fat in the process. It's a recipe that proves a burger can be the perfect vehicle to showcase a chef's unique style (and in this case, signature barbecue sauce). 
"Delicatessens were neighborhood community spots where all the food was made from scratch," says Chef Jeremy Umansky, who's bringing that deli spirit back to Cleveland via his joint, Larder. "We wanted to harken back to something that was more romantic, more community minded."
That focus on quality and community is why Umansky places such emphasis on using the Certified Angus Beef ® brand for all the beef that's served at Larder, a commitment he brings to every other ingredient he uses. "We focus on local, foraged and fermented foods, and love to use koji and other fungal molds," he says. "My passion is exploring how you can take a traditional food, like a pastrami sandwich, and take it to new heights: like our koji cured Certified Angus Beef ® pastrami sandwich."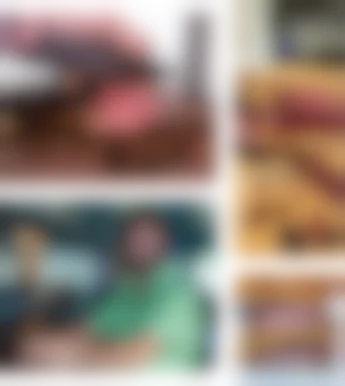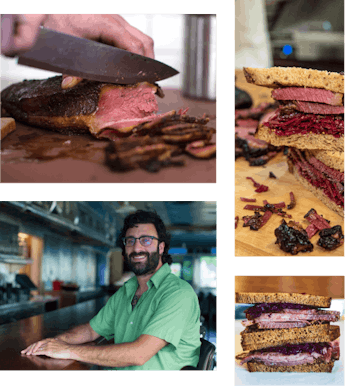 The dish is one that's indebted to the past but not purely a product of nostalgia. It's a delicious microcosm of how neighborhood delis can continue to innovate without losing what made them so special in the first place—treating great ingredients the right way.
A Bowl Bursting with Asian Flavors
"My daughter has had a lifelong love for noodles of almost any kind, but it's ramen that she would eat every night if she could. And like her old man, she is a massive fan of Korean BBQ short ribs (also known as kalbi)." That's how Chef Trevor Lui explains the many forms of inspiration that went into his recipe for Ramen with L.A. Kalbi Short Ribs in The Double Happiness Cookbook: 88 Feel-Good Recipes and Food Stories. "I had no choice but to roll them up into one big bowl to create for her the ultimate meal."
Thinking up a way to incorporate Japanese cuisine, Korean barbecue and his daughter's preferences into the same bowl of noodles is plenty impressive. But what's even more mind-blowing is the skill with which Lui executes his vision. His delicately balanced marinade brings even more flavor to the mix, but he's quick to give credit to the Certified Angus Beef ® flanken short ribs that form the base of the recipe. 
Having a great quality cut of beef bursting with Asian flavors just ties this bowl of noodles together perfectly.
The Intersection of India and South America
Churrasco is one of the most delicious dishes in Brazilian and Argentine cuisine. Grilling a quality cut of steak and serving it with chimichurri is an unbeatable combination—but then we saw how Chef Pushkar Marathe updated the formula with techniques and flavors from India. The unconventional thinking led Marathe to use Certified Angus Beef ® Prime Natural Sirloin Flap to create Tandoori Churrasco for his Palm Beach Gardens-based restaurant, Stage Kitchen.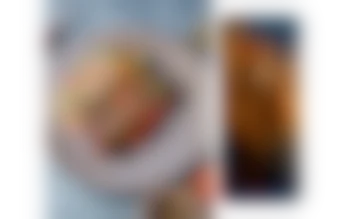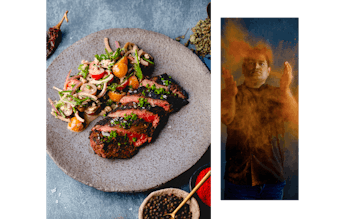 "My culinary roots originate in India—growing up cooking with my parents in our family kitchen," he says. "From there I've explored cuisines across the globe, from my culinary training in Switzerland to cooking in kitchens across the Caribbean, Middle East, and now in the U.S." 
Tandoori Churrasco is only one example of how that experience and philosophy has manifested itself in an inspired new dish, he says. "I constantly find inspiration through cooking seasonal and regional cuisine—merging the roots of my home with the fruit of my travels."
How to Fit 3 Cultures on the Same Plate
"My restaurant has three themes: Italian, Argentinian and American. It's the perfect combination of my family and everything I love," says Miami-based Chef Carla Dilorenzo. Since she sees her restaurant, Los Tanitos, as an extension of her family, it makes sense that she relies on Certified Angus Beef ® ground beef as the centerpiece of her signature empanadas.
I cook with the Certified Angus Beef ® brand because it's more than a brand: I know there's a family behind every beef dish I serve.
Using the best beef lends the empanadas a juicy and delicious guarantee that elevates the peppers, onions, garlic and oregano in the recipe. As those ingredients suggest, Dilorenzo isn't forcing overtly Italian or American foods into an empanada, but rather finding the common ground among those cuisines. It's a subtle and seamless way to create a twist on the empanada that's still totally recognizable. 
"Making these Certified Angus Beef ® filled empanadas is sharing my culture with everyone who stops into my restaurant," Dilorenzo says. "It's my heart, my pride and my heritage on a plate."
Rethinking the Steakhouse
Let's take this trip full circle and go back to the steakhouse. But instead of going to a spot with dim lighting and stodgy old sides that you might expect, let's check in with Chef Jeremy Ford, a Michelin star winning chef, who is currently brushing the dust off the classic steakhouse at the Butcher's Club in Palm Beach Gardens.   
"We're creating a fresh approach to a modern steakhouse," he says. "We've taken a lot of classic, staple dishes, and taken them to the next level, such as our new take on creamed spinach and mac and cheese," the latter of which is topped with bacon and blue crab. But naturally, the most important element is the meat, which is why he's bringing a renewed focus on quality ingredients to his menus.
We're buying the best meats that you can find in the country, like the Certified Angus Beef ® brand, and we're making it simple and delicious for everyone.
Together these chefs show why it's currently such an exciting time for beef. Some of them are taking beef to new places, while others are using the Certified Angus Beef ® brand to breathe new life into familiar institutions. Hopefully it's enough to inspire you to find new ways to incorporate these cuts into your own cooking. Just follow the lead of these chefs by only using the only beef that guarantees quality and flavor: the Certified Angus Beef ® brand.